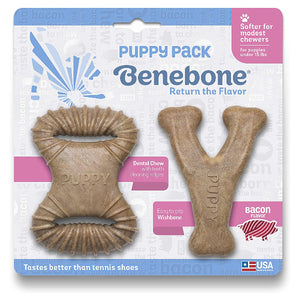 Benebone Bacon Flavor Tough Puppy Chew Toy Pack
It was simply no fair that puppies had to wait until they grew up to join the Benebone community. Designed for puppies with a slightly softer material makeup dedicated to teething pups – they're sure to save your tennis shoes!
Ingredients: Nylon and Maple Wood or Real Bacon.
Puppy Packs appropriately sized for tiny puppies under 15 lbs.
A dog's use of Benebone products should always be supervised. Monitoring and replacement are essential to your dog's safety.
Allergy Notice:
Benebones are made of nylon and are made in facilities that process peanuts, tree nuts, chicken, pork and beef. In addition, Benebones may contain peanuts, tree nuts, chicken, beef and/or wood ingredients for flavoring purposes. Therefore, Benebones should not be purchased for use in households where a human or pet may have an allergy to nylon, peanuts, pork, chicken and/or wood.
SKU: 5411100449