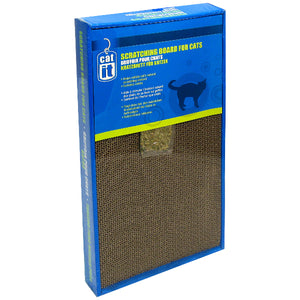 Catit Cat Scratcher with Catnip, Wide
Combining contemporary shapes with stylish patterns, the Catit Style Cat Scratch Board, Narrow Cat Bench is a modern twist on conventional cat scratchers. The cat scratcher cardboard provides your cat with a corrugated scratching surface and provides a new place for your cat to scratch instead of your furniture. A cat's need to cat scratch is instinctive and is important for cats health; it helps them to sharpen and remove the dead outer layer of their claws, stretch and flex their bodies and work off energy. Sprinkle catnip on the cat scratch pad to entice your kitty to play, stretch, scratch, and relax on this cat toy.
Dimensions: 8.75 W x 18.25 L inches
Helps protect your furniture from claw damage and assists in cat grooming by keeping cats' claws trimmed and well maintained.
Catnip included.
SKU: 2251752411