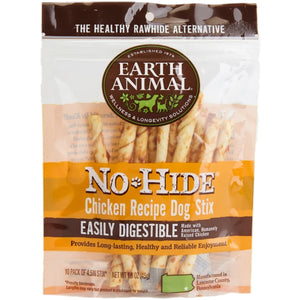 Earth Animal No-Hide Chicken Chew, STIX, 10 Pack
"Our Chicken No-Hide® STIX are the healthy, hand-rolled alternative to rawhide!  Each STIX delivers a delicious, long-lasting chewable bliss to dogs and cats of all shapes. "
They are carefully hand-rolled, uniquely cooked and dried making them easily digestible and nutritious. And, are 100% free of chemicals, additives, bleaches, and formaldehydes. 
Ingredients: Chicken, Brown Rice Flour, Agar-Agar (vegetable gelatin), Organic Eggs, Olive Oil, Banana Powder, Bromelain (Pineapple).

Guaranteed Analysis:
Crude Protein 75% Minimum
Crude Fat 2% Minimum
Crude Fiber 2% Maximum
Moisture 13% Maximum

Approximately 13 KCal Per Chicken STIX 

SKU: 5725300371