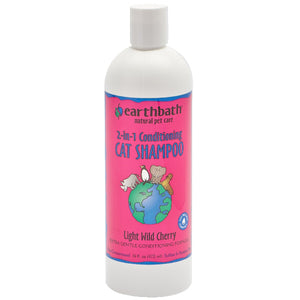 Earthbath 2-in-1 Conditioning Light Wild Cherry Cat Shampoo, 16-oz
"earthbath® formulated this extra gentle, pH-balanced, 2-in-1 conditioning shampoo for our finest furred feline friends. Gentle conditioners and organic aloe vera soften the coat, re-moisturize the skin, and add manageability, brilliance and shine. Our ultra-mild coconut-based cleaners and the subtle scent of wild cherries will leave her smelling fresh and deliciously clean. Will not wash off topical flea applications. Safe for all animals over 6 weeks old. To encourage peaceful co-existence in multi-cat households, use our Fragrance Free Hypo-Allergenic Cat Shampoo."
Ingredients: Purified water, renewable plant-derived and coconut-based cleansers, gentle conditioner & detangler, organic aloe vera, vitamins A, B, D & E, glycerin, botanical fragrance of wild cherry, preservative.
Avoid contact with eyes. Product is solely intended for use on coat and skin. Flush thoroughly with clean water if eye contact occurs. Keep out of reach of children. If swallowed (by humans), consult a physician.
UPC: 602644021214