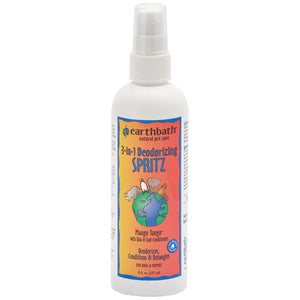 Earthbath 3-in-1 Mango Tango Deodorizing Spritz for Dogs, 8-oz
"earthbath® 3-in-1 Deodorizing Spritz naturally deodorizes, conditions and detangles coats with the sumptuous botanical fragrance of mangoes. Colloidal oatmeal, organic aloe vera, and vitamin E remoisturize skin and coat and impart a healthy shine, while gentle detanglers help keep coat soft and tangle free. Use between baths to freshen, condition and detangle, or as a finishing spray after bathing your dog with earthbath 2-in-1 Conditioning Shampoo. Safe for dogs over 6 weeks old. Not for use on cats."
Ingredients: Purified water, renewable plant & coconut-derived conditioner & detangler, colloidal oatmeal, vitamin E, organic aloe vera, glycerin, botanical fragrance of mango, citric acid, preservative.
Avoid contact with eyes. Product is solely intended for use on coat and skin. Flush thoroughly with clean water if eye contact occurs. Keep out of reach of children. If swallowed (by humans), consult a physician.
UPC: 602644022044