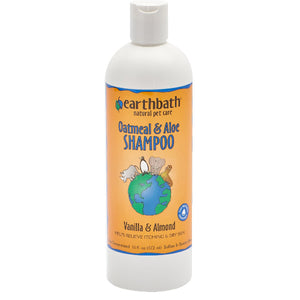 Earthbath Oatmeal & Aloe Dog & Cat Shampoo, 16 oz
earthbath® specially formulated this Oatmeal & Aloe itch relief shampoo to address the needs of pets with dry, itchy skin. Colloidal oatmeal and organic aloe vera help combat skin irritation, promote healing, and re-moisturize sensitive, dry skin. This luxurious shampoo is soap free and pH-balanced to clean and deodorize safely and thoroughly, leaving your pet's coat and skin brilliantly clean, soft, plush and smelling better than ever before. Will not wash off topical flea applications. Safe for all animals over 6 weeks. 
Ingredients: Purified water, colloidal oatmeal, renewable plant-derived & coconut-based cleansers, organic aloe vera, vitamins A, B, D & E, glycerin, allantoin, botanical fragrances of vanilla & almond, preservative.
Avoid contact with eyes. Product is solely intended for use on coat and skin. Flush thoroughly with clean water if eye contact occurs. Keep out of reach of children. If swallowed (by humans), consult a physician.
UPC: 602644021115