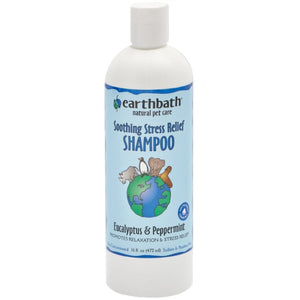 Earthbath Soothing Stress Relief Eucalyptus & Peppermint Pet Shampoo, 16-oz
"earthbath® Grooming Foam is specially formulated for cats in a convenient rub-on, towel-off formula for cats (and their humans) who don't enjoy traditional water-based bathing. Mild cleansers deodorize, freshen and clean, while essential green tea leaf extract and other natural humectants & emollients help to nourish & detoxify skin and coat. Safe for all animals over 6 weeks old."
Ingredients: Purified water, renewable plant-derived & coconut-based cleansers, panthenol, colloidal oatmeal, organic shea butter, organic aloe vera, vitamin E, green tea leaf extract, extracts of ginseng & awapuhi, citric acid, preservative.
Avoid contact with eyes. Product is solely intended for use on coat and skin. Flush thoroughly with clean water if eye contact occurs. Keep out of reach of children. If swallowed (by humans), consult a physician.
UPC: 602644020118