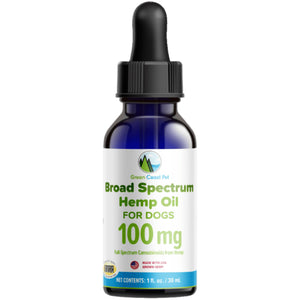 Green Coast Pet Broad-Spectrum Hemp Oil Dropper for Dogs, 100 mg
Made with Broad-spectrum hemp organically grown and produced in the USA using a solvent-free, super critical CO2 extraction method.
Broad Spectrum Hemp Oil Supports:
A calm & relaxed demeanor
A normal inflammatory response
A strong immune system
Good neurological function
Unflavored for easy administration to dogs. THC FREE
Active Ingredients per dropper (ml): Broad- Spectrum Cannabanoids Hemp Oil 3.33mg (1 ml).
Inactive Ingredients: MCT Coconut (Medium Chain Triglycerides).
Directions for Use (Daily Recommendations)
5-25 lbs: 1/2 Dropper (.5 ml)
25-50 lbs: 1 Dropper (1 ml)
50-75 lbs: 2 Droppers (2 ml)
Over 75 lbs: 3 Droppers (3 ml)
UPC: 860000562379