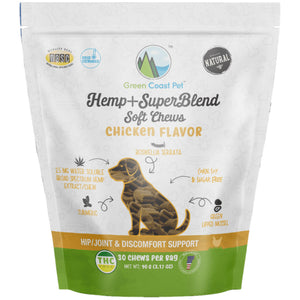 Green Coast Pet Chicken Flavor Hemp + SuperBlend Soft Chews for Dogs, 30 Count
"Our chicken flavored Hemp + SuperBlend soft chews are packed with benefits for your dog including 2.5mg of water soluble Broad Spectrum Hemp Extract per chew. These chews are soft for easy chewing and cold-extruded meaning that the active ingredients are in their raw format and are not cooked and degraded by being subjected to heat.
Made with a water soluble nano-emulsion technology, the hemp extract in these chews is up to 6x more bioavailable to the dog than any oil."
Active Ingredients per chew:
Proprietary Hemp Blend 250mg
(Hemp Meal, Hemp Seed Oil, Hemp Extract)
Perna Canaliculus (Green Lipped Mussel) 250mg
Turmeric (Curcuma Longa) Root Powder 50mg
Boswellia Serrata Powder 50mg
Inactive Ingredients: arabic gum, brewers yeast, buffered white distilled vinegar, canola oil, chicken liver powder, citric acid, guar gum, rosemary extract, sunflower oil, sunflower lecithin, tapioca starch, vegetable glycerin.
Directions for Use (Daily Recommendations)
5-25 lbs 1/2 Chew
25-50 lbs 1 Chew
50-75 lbs 2 Chew
Over 75 lbs 3 Chews
UPC: 869121000418