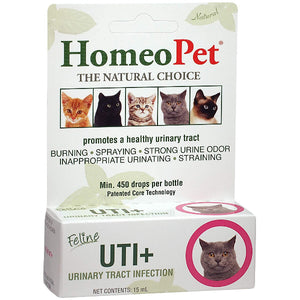 HomeoPet Feline UTI+ Cat Supplement, 15-mL
Promotes a healthy upper and lower urinary tract in cats. May aid in the relief of stress-related urination, often indicated by frequent urination often with a strong smell.
Fast-acting liquid
Natural medicine from Nature
No harsh chemicals
No known side effects
May be used for kittens and young animals
May be used for senior pets
Can be safely used long term
Great value with up to 90 doses per bottle (depending on weight)
Easy to dose liquid medicine
Ingredients: Aconitum Napellus 200c, Apis Mellifica 6c, Argentum Nitricum 30c, Arnica Montana 6c, Arsenicum Album 6c, Avena Sativa 4x, Belladonna, 30c, Benzoicum Acidum 6c, Berberis Vulgaris 4x, Calcium Phosphate 30c, Calendula Officinalis 4x, Cantharis Vesicatoria 6x, 6c, 30c, 200c, Causticum 6c, 30c, Chimaphila Umbellata 30c, Copaiva 7x, Echinacea Angustifolia 4x, Epigaea Repens 4x, Equisetum Hyemale 4x, 6x, Ferrum Phosphoricum, 12x, Gelsemium sempervirens 30c, Graphites naturalis 30c, Hydrangea Arborescens 4x, Hydrastis Canadensis 5x, Ignatia Amara 30c, 200c, Kali muriaticum 12x, Lachesis muta 30c, Lycopodium clavatum 12x, 30c, Merc Sol/Mercurius Vivus 30c, Natrum Muriaticum 30c, Nux Vomica 30c, 200c, Pareira Brava 6x, Passiflora incarnata 4x, Petroselinum Sativum 4x, Phosphorus 6c, 30c, Plumbum Aceticum 30c, Pulsatilla Nigricans 30c, Sabal Serrulatum 6x, Sarsaparilla Officinalis 30c, Scutellaria Lateriflora 4x, Sepia officinalis (succus) 6c, 30c, 200c, Solidago Virgaurea, 4x, Staphysagria 6c, 30c, Stramonium 30c, Sulphur 12x, Terebinthinia Oleum 6c, Thlapsi Bursa 4x, Thuja Occidentalis 30c, Uva Ursi 4x,Valeriana officinalis 4x.
DIRECTIONS FOR USE:
Dose medicine directly into mouth, in water or at meal/snack time
Administer one dose 3 times per day, as needed
In acute cases, one dose every 15 minutes up to 6 doses may be given
When improvement is seen decrease frequency of dosing to twice daily then once daily. If symptoms reappear repeat original dose. Discontinue use when symptoms subside.
SKU: 0495914765