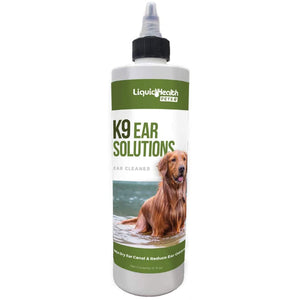 Liquid Health Pets K9 Ear Solutions Dog Ear Cleaner, 12-oz
If you own a dog, it's just a matter of time before you'll need a quality dog ear cleaner that you can count on. Liquid Health Pets manufactures a high quality K9 dog ear cleaner that can help with dogs that are scratching their ears. Even a dog knows that something is wrong, they just don't know what to do. Fortunately, cleaning your dog's ears only takes a few minutes and can provide your canine with a much more peaceful life.
Ingredients: Isopropyl Alcohol, Boric Acid, Gentian Violet, Colloidal Silver.
Directions for Use: Shake Well. Hold ear open. Pour solution into ear and fill canal. Put cotton ball into ear to absorb excess solution and prevent staining. Massage ear, then remove cotton ball. Repeat for other ear. If necessary, liquid can be applied directly to the cotton ball or cloth, then rubbed in ear.
For severe problems, apply twice daily for 2 weeks, then once daily for one week.
-Always apply after swimming.
-For maintenance of healthy ears, use weekly.
UPC: 765462900120