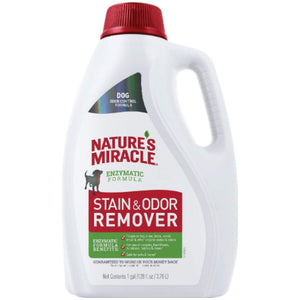 Nature's Miracle Dog Enzymatic Stain & Odor Remover, 1-gal
Nature's Miracle Stain & Odor Remover Nature's Enzymatic Formula works to eliminate stains and odors caused by puppies and dogs, including urine and feces accidents, food, drooling, bedding stain and odors and other hard-to-get-out dog messes. Note: Not recommended for leather, suede, silk or wool specialty fabrics. When used as directed, this product will also work on old deep-set stains and odors. Safe for use around pets and homes, when used as directed.
Fast-acting formula clings to surfaces to break down and remove embedded dirt and debris
Perfect for spot cleaning and removing surface stains and odors 
Ingredients: Water, Nature's Enzymes, Isopropyl Alcohol, Natural Citrus Scent.
People and pets should not be allowed on treated areas until product has dried.
DIRECTIONS FOR USE
Before using, test surfaces to be treated for colorfastness by applying to a hidden area. Wait one hour, then wipe with cloth. If color is removed from the test area, do not use this product on those surfaces.
Always use this product full strength.
Always use Nature's Miracle Stain & Odor Remover formulas first! Other cleaners and detergents may fail and chemically .. ser stains that will be impossible to remove.
FOR STAIN REMOVAL
Wipe up as much of the stain as possible, then thoroughly soak stain with this product.
Allow to work for 10 minutes, then blot up stain with a clean cloth.
Allow area to dry for 24 hours.
For severe, old or stubborn stains an carpeting or fabrics (feces or vomit/hairball), follow steps 1-2 above and follow with gently scrubbing the stain with a soft bristle brush for 1 minute, then allow to dry for 24 hours.
CAUTION: Harmful if swallowed. If swallowed, seek immediate medical attention. In case of eye contact, immediately flush eyes with water for 15 minutes. Contact a physician. Prolonged skin contact may cause skin irritation.
KEEP CLOSED WHEN NOT IN USE. KEEP OUT OF REACH OF CHILDREN AND PETS. DO NOT APPLY DIRECTLY ON PET.
FOR ODOR ELIMINATION. 
UPC: 018065981516