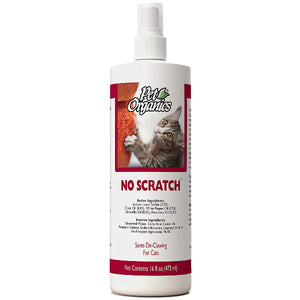 NaturVet Pet Organics No Scratch for Cats, 16-oz Bottle
Pet Organics No Scratch™ Spray helps train cats not to scratch furniture, carpets and drapes. Spray No Scratch on areas you wish to protect. A unique product that sprays on fabric surfaces and discourages cats innate desire to claw.
Helps train your cat not to scratch furniture, carpets, and drapes.
Saves declawing
Ingredients: Sodium Lauryl Sulfate (2.5%), Clove Oil (0.4%), White Pepper Oil (0.3%), Citronella Oil (0.2%), Rosemary Oil (0.2%). Inactive Ingredients: Deionized Water, Citric Acid, Castor Oil, Potassium Sorbate, Sodium Benzoate, Isopropyl Alcohol, Total Inactive Ingredients (96.4%).
UPC: 013292141160