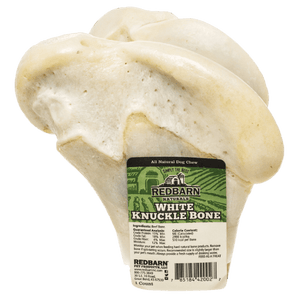 Redbarn White Knuckle Bone
Redbarn's white bones are a great option for dogs with a strong urge to chew, sure to satisfy their natural instinct and save your cords. And, thanks to their durability; thickness; and smooth texture, your dog will be able to chew away for hours, helping them reduce stress and boredom throughout the day. And like all Redbarn bones, white bones help keep your pet's pearly whites clean as the natural act of chewing helps to gently scrape away plaque and tartar buildup while massaging their gums. 
Ingredients: Beef Bone.
Approximately 5 × 4.5 × 3.75 in 

UPC:  785184420027