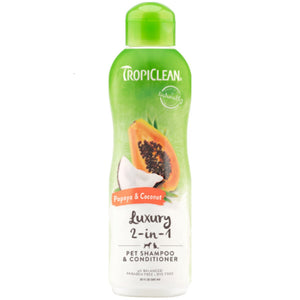 TropiClean Luxury 2 in 1 Papaya & Coconut Pet Shampoo and Conditioner
"Papaya & Coconut Shampoo and Conditioner is made with papaya, coconut, and other tropical ingredients to pamper your pet in a rich, luxurious lather. Our mild coconut cleanser is one-of-a-kind, just like your pet. Coconut gently cleanses fur of dirt and oils from playtime and head pats, while papaya and kiwi replenish the natural moisture balance of the skin and coat. Rich botanical conditioners result in a healthy sheen, while preventing dry skin and tangled fur. With routine bathing, this luxury 2-in-1 shampoo and conditioner will keep your pet's skin and coat stay soft, shiny, and looking great."
Cruelty Free
Soap Free
Nourishes dry skin
Gentle for both dog and cats 
Ingredients:  Purified water, mild coconut cleanser, avena sativa oatmeal, natural conditioners, organic blend of (papaya extract, kiwi extract, mango extract, pomegranate extract, yucca extract, chamomile extract), hydrolyzed plant protein, vitamin E, fragrance, aloe extract.
Directions: Shake bottle. Wet pet's coat. Massage shampoo into your pet's coat for 3 to 5 minutes, then rinse well. Safe for daily use. 
UPC: 645095202184