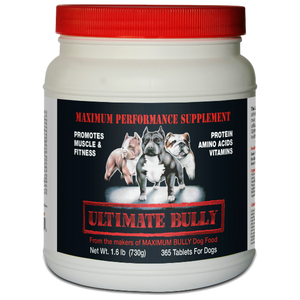 Ultimate Bully - Performance Supplement 365 Count
Promotes Muscle & Fitness.
Formulated by leading professionals to have what dogs need to grow bigger, stronger, healthier, and happier.
Packed with protein, amino acids, vitamins and minerals to promote muscle growth and general well being.
Comparable to the protein supplements for athletes.
Designed for the bully breed market,

but equally safe & effective for all breeds.

Converts calories into lean muscle mass instead of fat.
Assists metabolism in the efficient utilization of vitamins, minerals, and other nutrients.
Optimizes immune system.
100% safe: Contains NO harmful ingredients.
Dogs love the taste.